Directional Boring Video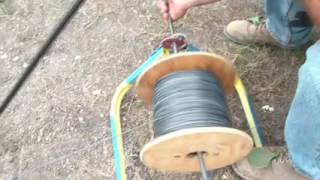 Directional Boring Installing Fiber Optic Cable
Horizontal directional drilling (Directional boring) Is the very best way and the right way to install underground conduit for any purpose, gas, electrical, water or communications. If a open cut trench across your parking lot does not seam like a reasonable way to get a fiber optic cable to your companies new building then call us Today! 601-709-3636 Gorilla Building has been installing Fiber optics cable and other products for 20 plus years in the Jackson Mississippi area. We are a specialty company and will get your project done right and we also clean up. We have the best crew in boring, offering and exceptional product and a quick delivery time. Directional boring, trenchers, excavators, trailers, trucks, and probably everything else they sell for utility services. We look forward to doing business with you and providing you with some bragging points for the boss.
Take a look at our sister company http://www.intermixpro.com for all of your communication and security needs.
Here is a great picture of a boring machine in action. We are ready to get started on your project.
Here is a link to Wikipedia https://en.wikipedia.org/wiki/Directional_drilling This will give you all the facts and history on this great technology.
Gorilla Email or call us Today! 601-709-3636