Roofing Information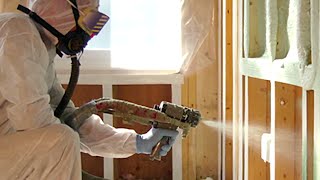 Webinar by Honeywell: A Great Video About SPF
Asphalt Shingle Roofing
Gorilla Building is proud to offer asphalt shingle roofing, metal roofing and spray foam roofing systems. If your home needs a new roof please request a free quote or Give us a call today! 601-709-3636  We will gladly help you with any insurance questions, you should be treated fairly by them, regardless of carrier. Gorilla Building provides all the products needed for home and commercial roofing systems including a wide variety of asphalt shingles. Fantastic Warranties available. Your new asphalt roof should not be installed by a crew sent to your home from an online request. We are a local company providing spray foam insulation and roofing services.
Spray Foam Roofing
Polyurethane Spray foam roofing can be used on all types of industrial roofing and commercial roofs. Have an old, leaky roof? There's no need to replace it! Our polyurethane coating is a lightweight, watertight, and permanent solution that creates a monolithic seal coating roofing system (seamless leak free system) that is both trustworthy and easy to maintain. Our spray roofing can also be applied in various thicknesses to provide slope or drain to roofs that tend to have specific leaky spots due to improper rise & run or low spots.
Our spray roofing also increases your thermal resistance (R-value) by adding an additional layer of insulation which gives you an increased barrier to the elements; while also decreasing your power bill.
SPF is a great product for waterproofing & sealing-
metal roofs
asphalt roofs
membrane roofs
rock/ gravel roofs
flat roofs
low sloped or high sloped roofs
coal tar roofs
modified bitumen
mopped roofs
roofs with any type of built up or multi-ply material
and many other applications that need a complete water barrier for minimal cost.
Check out our in depth video from Honeywell (above), debunking the myths that sometimes get traction over the facts.
Spray foam roofing systems are just the beginnings of this fantastic product. Please look at our other pages to appreciate the value, and many uses, of polyurethane. http://www.gorillabuilding.com/sprayfoaminsulation/
Don't be fooled by inexperienced installers using inferior equipment and products. We use top of the line equipment and only carry the best name brands like Premium and Rhino. Take a look at these warranty pages from two very reputable companies.http://premiumspray.com/ and http://spf.rhinolinings.com/
When you hire Gorilla Building you will get the experience and professionalism that you expect! We hold many A+ and 5 Star Ratings and proudly support the Better Business Bureau and our local Chamber of Commerce. Give us a call Today! 601-709-3636 located just outside Jackson, Mississippi, but servicing most of the South!
Gorilla Email or call us Today! 601-709-3636